Welcome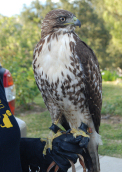 FalconFinders is a website where falconers can report lost and found birds. It is also a place where non-falconers can report a found hawk or falcon wearing equipment. The information reported on the form will be e-mailed to the founder of Falcon Finders, who will post the report to the Falcon Finders Facebook page to help reunite these birds with their falconers. Personal information about the reporter will only be given out when necessary to aid falconers in retrieving birds. This site is not for reporting injured or orphaned wild birds. For these cases please contact your local wildlife rehabilitator or animal shelter.
Due to issues with spam, reports will no longer be e-mailed to subscribers. We do not currently have any plans to restore this feature.
To see a list of previously reported birds, as well as their status, click here.
Report birds lost or found in California ONLY at this time. We may expand to other locations in the future.